Who are we?
Megan Tresenriter & Jessica Paz (Co-Founders) - We're two Emergency Medicine residents who just went through the interview process a couple years ago. Currently, Megan is doing her residency at UC San Diego and Jess at UC San Francisco. Swap&Snooze was inspired by the great experiences we had hosting strangers and friends throughout medical school as roommates at UC Davis. For the past couple years, we've really enjoyed how Swap&Snooze has given students the chance to save some money (and even make some new friends!)
Ellie Ragone - Ellie is a 4th year medical student who joined the team for its third year running, and will be heading to Baystate Medical Center to start her emergency medicine residency in June. Ellie brought her experience from her previous career as a software engineer to complete rebuild the entire website from the ground up. It's now a standalone web application, capable of complete customization so we can provide you with the exact features you need to get to your interviews!
How can I sign up for an account?
Click here! Create a profile, upload proof of being a current medical student, prior medical student, current resident, or attending, and start Snoozing!
How does this work for the FIX Feminem conference?
We are really excited to have a conference Swap&Snooze feature for the first time for FIX Feminem 2018! Traveling to conferences can be expensive and we hope to offer a way to connect, network, and share ideas year round through conference hosting. Medical students, residents, and attendings can both sign up to host and be hosted. Fingers crossed - if FIX hosting goes well, we will expand year round!
I heard this is a pretty new site. How did it go last year?
We think it went pretty well! We had our first and second season of Swap&Snooze and ended up with over 800 active members from over 150 cities and schools. Here's a screen shot of all the places we had hosts.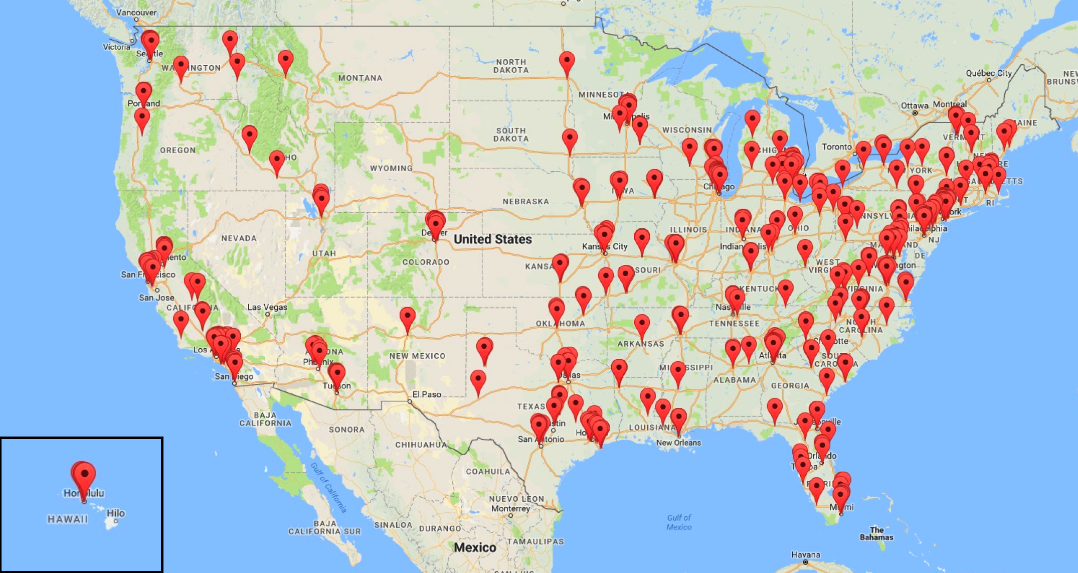 How do I find a host?
Once you have made an account, a profile, and have been approved, you will get access to a map with all the available hosts. Each host will list their preferred method of contact (email/text/call). We recommend that you contact them via their preferred method of contact with a brief message including:
Your name
Your institution
Where and when you will be interviewing in their area
The specific date(s) you are requesting to be hosted
What if I don't want to host?
The site is built to run on a the concept of "reciprocal social hospitality" similar to other popular hosting sites. We cannot regulate who actually hosts and who doesn't, but we hope that everyone who signs up will host at least once. If you are unable to host, please fill out this form.
How much does this cost?
Nothing! We do not collect money from hosts or hostees.
Can people charge me to be hosted?
No, we are a social hospitality community and hosting is free. A host should not ask a guest for money. Guests are definitely welcome to show appreciatation via taking a host out, small gifts (ie 6 pack of beer or a yummy latte), or some other act of kindness. If you see a profile or if a host is trying to charge money, please let us know!
Who can make an account?
Anyone currently applying to residency, any current medical student, or any current resident! We welcome MD students, DO students, international students, residents changing specialties, applicants from military services.
Is this only limited to people applying to residency? What about pre-meds? nursing students?
We're going to limit it to medical students (or residents) this year (it's our beta version). If there turns out to be interest, we'll see about expanding it to pre-med, basic science, pharmacy, nursing, etc. next year.
Does Swap&Snooze offer any insurance or liability for hosts or hostees?
No. We do not offer an insurance or liability coverage to our users. In short - Hosts and hostees use this website at their own risk. In the event of a poor experience, we are not responsibile or liable for any direct or indirect damages, theft, abuse, accidents, personal harm, punitive damages that arise out of use of this site. Long version of policy can be read here - Terms & Conditions. If you do happen to have a bad experience with any member, please let us know! We want to keep this community as safe as possible.
Is my information safe?
We value your safety. That's why we have several safeguards to prevent your personal information getting in the wrong hands.
We do our best to screen members to only be medical students or current applicants. We cannot 100% prove everyone is a student (there is always the possibilty of someone photoshoping their ID or ERAS screenshot), but we do our best to verify everyone.
We will not display your address to other members, but we do use it to create a map of available hosts. For added safety, only your approximate address will appear on the map, we edit it slightly so that it is not directly over your house but within a few block radius of your house.
We promise not to share your information with third parties
Why not use couchsurfers or other similar sites?
The members! By targeting other medical students going through the application process, we are able to create a community of like minded people going through the same process. Our logic is that as a medical student or resident, someone has already paid the big bucks to get a background check on you. Hopefully this means you're a decent person who won't murder our members in their sleep. Plus get the added bonus of insider tips about the program you're interviewing at!
How will by information be displayed?
Your home and about me info will be placed on our "hosting map" on a profile card. Addresses used are slightly adjusted to protect privacy. See examples below!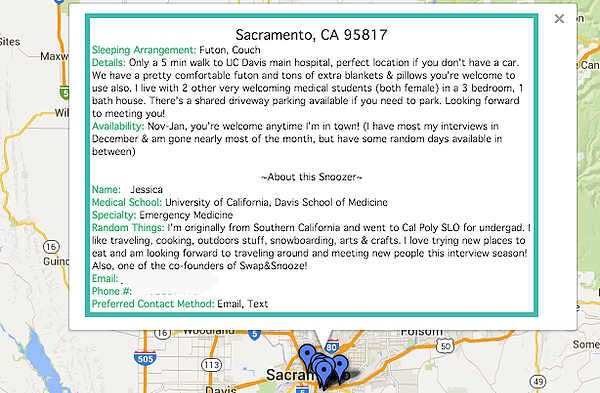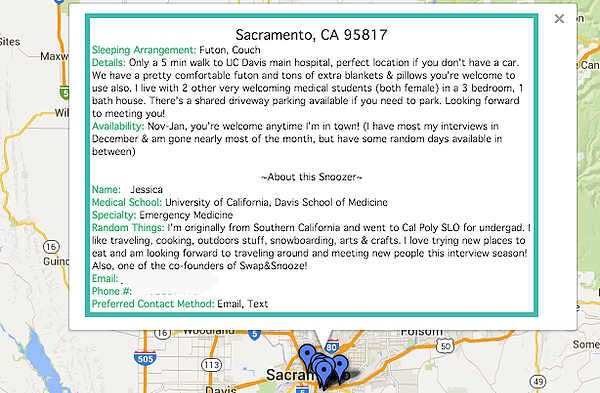 How do I remove my profile if I am no longer interested in Swap&Snooze?
We're sorry to see you go! Click Edit Profile and scroll to the bottom of the page. There is a button to close the account for the season.